Mission of Foundation:
The Waverly Community House (The Comm) is expanding and redefining the scope of the F.Lammot Belin Memorial Fund to serve as the F.Lammot Belin Arts Foundation. This is being done in furtherance of the Comm's overarching mission to offer educational, cultural and recreational opportunities to individuals and families in the region. The ultimate goal is to "build community through the arts" and to expand and elevate the scope of arts programming and education. The creative model is also tiered and consists of a themed approach designed to explore the interdisciplinary and collaborative nature of the arts.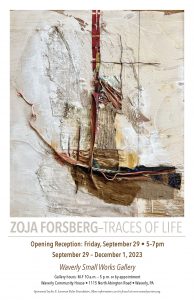 Waverly Small Works Gallery – Artist Zoja Forsberg "Traces of Life".  Reception Friday, September 29, 2023 at 5:00PM at the Waverly Community House.
Join us for the opening reception of our fall exhibit by Artist Zoja Forsberg titled "Traces of Life". The event is free and open to the public and will feature music and light refreshments.
Zoja Forsberg is an artist whose creative journey has been shaped by her multicultural background and life experiences. Born in southern Finland to Ukranian and Polish parents who had endured the hardships of World War II, Zoja's early years were characterized by resilience and simplicity. At the age of two, her family sought refuge in neighboring Sweden embarking on a journey that would shape her artistic sensibilities.
Growing up in Sweden as a refugee, Zoja developed a profound appreciation for nature and found objects. The unadorned lifestyle and language barriers she faced instilled in her a love for incorporating humble materials into her art. Texture and color are pivotal in her work, which she approaches without preconceived designs, allowing the materials to guide her toward abstract compositions that evoke emotions rather than specific subjects.
Zoja's passion for art led her to pursue formal training in interior design and fine art at Marywood University in the United States. Deepening her fascination with textiles, she continued to express her artistic sensibility through her interior design. Her mixed media collages serve as a fusion of her diverse influences and experiences, bringing together elements of nature, found objects, and a sense of abstract design.
Throughout her career, Zoja has participated in numerous juried group shows and received recognition for her artistic endeavors. Her one-woman shows have provided platforms for her introspective and evocation works, inviting viewers to delve into the layers of her artistic expressions. Zoja's art speaks to the resilience of the human spirit and the beauty found in most unassuming things.
With each piece she creates, Zoja invites viewers to join her in an exploration of texture, color and the profound connections that exist between art, nature, and personal narratives. Her collages serve as visual whispers, telling stories of resilience, personal growth, and the innate beauty found in the world around us.
Free and open to the public.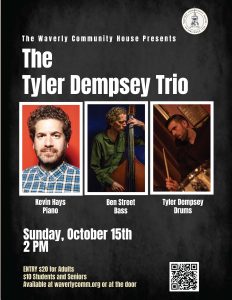 Concert – The Tyler Dempsey Trio – Sunday October 15, 2023.
2:00PM at the Waverly Community House.
$20 Adults
$10 Students and Seniors
To purchase tickets please CLICK HERE
KEVIN HAYS-piano:
Grammy Award-winning jazz pianist, composer, and singer/songwriter Kevin Hays's many recordings have received critical acclaim from The New York Times, Downbeat Magazine and Jazz Times, as well as the "Coup de Coeur" award from the Académie Charles Cros (France).
Kevin has appeared on numerous albums as a guest artist, recording with Chris Potter, Bill Stewart, Joshua Redman, Jeff Ballard, Nicholas Payton, and Al Foster, among many others. Notable collaborations include a piano duo project with Brad Mehldau (Modern Music – Nonesuch), world tours with James Taylor, Sonny Rollins, John Scofield, Joe Henderson, and Roy Haynes.
In addition to his celebrated work as pianist and composer, Kevin has become increasingly known as a gifted and expressive singer/songwriter. In 2015 he released the widely lauded recording New Day (Sunnyside), on which he performed his own songs along with a riveting performance of the Jimmy Webb classic 'Highwayman'.
Hope, the highly anticipated 2019 collaboration with Beninese guitarist Lionel Loueke, was released on Edition Records. Their music moves effortlessly between melodic serenity and rhythmic interplay, highlighting the beauty and intimacy of the piano/acoustic guitar format.
Hays co-wrote several compositions on Steve Gadd Band's eponymous album which garnered the 2019 GRAMMY Award for Best Contemporary Instrumental Album.  The album features Kevin's own 'Spring Song', the sole vocal track.
"Kevin Hays is a true original. Everything he plays has a deep intelligence and swing."
– Brad Mehldau
"There are plenty of talented pianists… but few have Hays' melodic charms and sense of style."
– The New Yorker 'Best of the Year' list
"A jolt of joy."
– The New York Times
"He's all encompassing. Phenomenally so!"
– John Scofield
BEN STREET- bass :
Ben Street studied at the New England Conservatory of Music in Boston with Miroslav Vitous and Dave Holland before moving to New York in 1991. He has performed and toured with many notable artists including Danilo Pérez, Kurt Rosenwinkel, Roswell Rudd, Lee Konitz, David Sanchez, James Moody, Mark Turner, Frank Foster, Clark Terry, Junior Cook, and Jimmy Scott, among many others.
Street's selected discography includes The Next Step, The Enemies of Energy, Heartcore (Kurt Rosenwinkel), Til Then, Live at the Jazz Showcase (Danilo Pérez), Coral, Cultural Survival (David Sanchez), La Bikina (Ed Simon), Morenica (Anthony Coleman), Holiday Songs and Lullabies (Shawn Colvin), At Last (Cyndi Lauper), Guilty (Ethan Iverson, Jorge Rossy, and Chris Cheek), Widening Circles (Barney McAll), Dust (Ben Monder Trio), Space Cowboys Original Motion Picture Soundtrack, Purple Violets (Sam Rivers/Kresten Osgood), and Quartet (Billy Hart).
TYLER DEMPSEY-drums :
Tyler Dempsey is a professional drummer & educator from Clarks Summit, PA. He has performed, toured, and/ recorded with many of the region's finest musicians including NEA Jazz Masters Dave Liebman and Bob Dorough, Grammy award-winning pianist Kevin Hays, Gene Perla, Chase Baird, Joe Magnarelli, Joe Locke, Billy Test, Behn Gillece, Matt Vashlishan, Jon Ballantyne, Adam Niewood, Tony Marino, Jim Ridl, Phillip Kuehn, Bill Washer, and Ron Oswanski.  As an educator, he holds the position of "Director of Percussion Instruction" at Keystone College.  Tyler is the recipient of the 2020 F. Lammot Belin Scholarship.
To purchase tickets please CLICK HERE
$20 Adults
$10 Students and Seniors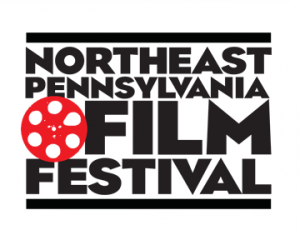 The Northeast Pennsylvania Film Festival
APRIL 12TH-14TH, 2024
DETAILS ON THE 2024 FESTIVAL TO FOLLOW SOON!
Visit nepafilmfestival.com